Top 10 2017 Anime which has Finished Airing
Anime is one of the best mode of entertainment . There is a huge audience , anime lovers who daily watch different anime . Our todays article will help those fans who don't want to watch a single episode per week . Who are more interested in watching a whole Season in one fell swoop. So, for such types of fans we have prepared a list of latest 2017 anime which have finished airing .
1. Little Witch Academia


Source- Google Images
Other Name -
リトルウィッチアカデミア
Type- TV Series
Genre-Adventure,Fantasy,Magic,School,Comedy
Studio-Trigger
Date Aired- Jan 9 ,2017
No. of Episodes- 25
Synopsis-
Atsuko Kagari is an ordinary girl who joins the renowned witch academy for witch girls, Luna Nova Academy. When she was younger, she went to Magical Festa, a magic show hosted by a witch named Shiny Chariot. Atsuko was so mesmerized and inspired by Shiny Chariot's performance that she dreamed to someday be a "cool" witch like her. This young and impressionable Atsuko takes Shiny Chariot's words as her own motto: "Never forget, a believing heart is your magic." As part of a class, Atsuko and her classmates go into a labyrinth under the Tower of Luna Nova. There, a sealed ancient dragon was unleashed by one of her classmates
.
TRAILER-
2. Attack On Titan Season-2


Other Name -
Shingeki No Kyogin
Type- TV Series
Genre-Action,Drama,Shounen,Fantasy,Super Power
Studio-Wit Studio
Date Aired- April 1 ,2017
No. of Episodes- 12
Synopsis-
For centuries, humanity has been hunted by giant, mysterious predators known as the Titans. Three mighty walls—Wall Maria, Rose, and Sheena—provided peace and protection for humanity for over a hundred years. That peace, however, was shattered when the Colossus Titan and Armored Titan appeared and destroyed the outermost wall, Wall Maria. Forced to retreat behind Wall Rose, humanity waited with bated breath for the Titans to reappear and destroy their safe haven once more. In Shingeki no Kyojin Season 2, Eren Yeager and others of the 104th Training Corps have just begun to become full members of the Survey Corps. As they ready themselves to face the Titans once again, their preparations are interrupted by the invasion of Wall Rose—but all is not as it seems as more mysteries are unraveled. As the Survey Corps races to save the wall, they uncover more about the invading Titans and the dark secrets of their own members. [Written by MAL Rewrite].
3. Granblue Fantasy the Animation
Source-Google Images

Other Name -
None
Type- TV Series
Genre-Fantasy
Studio-A1 Pictures
Date Aired- April 2 ,2017
No. of Episodes- 13
Synopsis-
This is a world of the skies, where many islands drift in the sky. A boy named Gran and a talking winged lizard named Vyrn lived in Zinkenstill, an island which yields mysteries. One day, they come across a girl named Lyria. Lyria had escaped from the Erste Empire, a military government that is trying to rule over this world using powerful military prowess. In order to escape from the Empire, Gran and Lyria head out into the vast skies, holding the letter Gran's father left behind—which said, "I will be waiting at Estalucia, Island of Stars."(Source: Aniplex of America).
4. Saenai Heroine No Sodatekata Season 2
Source-Google Images
Other Name
-
Saekano: How to Raise a Boring Girlfriend .flat; Saenai Heroine no Sodatekata Flat; 冴えない彼女〈ヒロイン〉の育てかた♭
Type- TV Series
Genre-Comedy,Ecchi,Harem,School, Romance
Studio-A1 Pictures
Date Aired- April 14 ,2017
No. of Episodes- 11
Synopsis-
It Does not have a season 2 synopsis But those who want to Know about this anime before watching .

Here is the Season 1 Synopsis :-
Tomoya Aki, an otaku, has been obsessed with collecting anime and light novels for years, attaching himself to various series with captivating stories and characters. Now, he wants to have a chance of providing the same experience for others by creating his own game, but unfortunately, Tomoya cannot do this task by himself.

He successfully recruits childhood friend Eriri Spencer Sawamura to illustrate and literary elitist Utaha Kasumigaoka to write the script for his visual novel, while he directs. Super-group now in hand, Tomoya only needs an inspiration to base his project on, and luckily meets the beautiful, docile Megumi Katou, who he then models his main character after.

Using what knowledge he has, Tomoya creates a new doujin circle with hopes to touch the hearts of those who play their game. What he does not realize, is that to invoke these emotions, the creators have had to experience the same feelings in their own lives.

[Written by MAL Rewrite]
5. Rokudenashi Majutsu Koushi To Akashic Records
Source- Reddit
Other Name
-
Akashic Records of Bastard Magic Instructor; ロクでなし魔術講師と禁忌教典
Type- TV Series
Genre-Action,fantasy,Magic,School
Studio-Liden Films
Date Aired- April 4 ,2017
No. of Episodes- 12
Synopsis-
Sistina attends a magical academy to hone her skills in the magical arts, hoping to solve the mystery of the enigmatic Sky Castle. After the retirement of her favorite teacher, the replacement, Glen, turns out to be a tardy, lazy, and seemingly incompetent bastard of an instructor. How is it that Glen was hand-picked by the best magician in the academy?!(Source: Tribuo Scans)
Other Name
-
Eromanga Sensei; Ero Manga Sensei; エロマンガ先生
Type- TV Series
Genre-Comedy,Drama Romance
Studio-A1 Pictures
Date Aired- April 9 ,2017
No. of Episodes- 12
Synopsis-
One year ago, Sagiri Izumi became step-siblings with Masamune Izumi. But the sudden death of their parents tears their new family apart, resulting in Sagiri becoming a shut-in which cut her off from her brother and society.While caring for what's left of his family, Masamune earns a living as a published light novel author with one small problem: he's never actually met his acclaimed illustrator, Eromanga-sensei, infamous for drawing the most lewd erotica. Through an embarrassing chain of events, he learns that his very own little sister was his partner the whole time!As new characters and challenges appear, Masamune and Sagiri must now face the light novel industry together. Eromanga-Sensei follows the development of their relationship and their struggle to become successful; and as Sagiri slowly grows out of her shell, just how long will she be able to hide her true persona from the rest of the world?[Written by MAL Rewrite]
7.Quan Zhi Gao Shou
Source-Google Images
Other Name
-
The Kings Avatar; The King's Avatar; Full-Time Expert; The King's Avatar; Master of Skills; 全职高手
Type- TV Series
Genre-Action,Adventure,Comedy,Game
Studio-GCmay Animation Film
Date Aired- April 7 ,2017
No. of Episodes- 12
Synopsis-
In the multiplayer online game Glory, Ye Xiu is regarded as a textbook and a top-tier pro-player. However, due to a myriad of reasons, he is kicked from the team. After leaving the pro scene, he finds work in an Internet Cafe as a manager. When Glory launches its tenth server, he throws himself in to the game once more. Possessing ten years of experience, the memories of his past, and an incomplete, self-made weapon, his return along the road to the summit begins!
8.Renai Boukun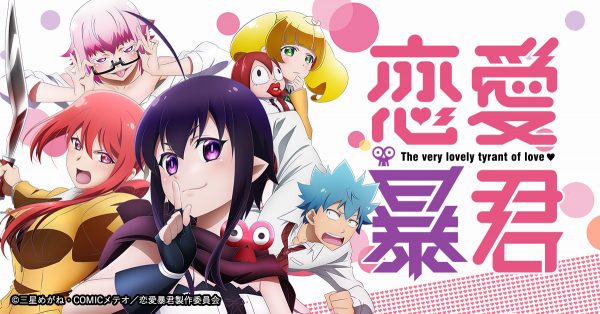 Source-Google Images
Other Name
-
Love Tyrant; 恋愛暴君
Type- TV Series
Genre-School,Comedy,Supernatural,Romance
Studio-
EMT²
Date Aired- April 7 ,2017
No. of Episodes- 12
Synopsis-
A Kiss Note is a powerful notebook that makes anyone who has their name written together will instantly fall in love if they kiss each other regardless of any circumstances. This magical and very familiar item belongs to an angel named Guri whose job as cupid is to create couples. However, she accidentally writes down Aino Seiji, a regular high school student, and unless he kisses someone, Guri will die. She convinces Seiji to go kiss his crush, Hiyama Akane, the school's popular girl who turns out has even stronger feelings for him, bordering on obsessive and psychotic. Eventually Akane and Seiji come together but not before Guri decides that she likes Seiji as well. What seems awesome to most guys becomes hell for Seiji who just wants a normal relationship with girls.(Source: MangaHelpers)
9.Berserk 2017
Source-Google Images
Other Name
-
Berserk; ベルセルク
Type- TV Series
Genre- Action,Adventure,Deamons,Drama,Fantasy,Horror,Magic,Military,Romance,Supernatural
Studio-
Millipensee , Gemba
Date Aired- April 7 ,2017
No. of Episodes- 12
Synopsis-
The sequel of Beserk (2016). Guts sets off once again protecting Casca from evil caused by the brand. They get new companions and go into a new exciting arc.
10. Basou Shoujo Machiavellianism
Other Name
-
Armed Girl's Machiavellism; 武装少女マキャヴェリズム
Type- TV Series
Genre-Action,School,Shounen
Studio-
Silverlink,Connect
Date Aired- April 5 ,2017
No. of Episodes- 12
Synopsis-
The Private Aichi Symbiosis Academy was originally a high school for high-class girls. When it became co-ed, the girls, out of fear, asked to be permitted to bring weapons to school. When that was enforced, a five-member vigilante corps-like organization called the "Supreme Five Swords" was also formed.After many generations, the five swords eventually became a group which corrected problematic students, and the academy started proactively accepting such students in order to correct them.Nomura Fudou was sent to this school after being part of a huge brawl. What will he do when the only options he has after enrolling are being expelled from that school or being corrected the way the rest of the male students there were...by being forced to dress and act like a girl!(Source: Batoto, edited).
Subscribe to Our Newsletter for More new updates on Anime.
Share if you Like the article and also tell me which anime your are going to watch after reading this list ,it will help us to prepare more contents in the Future . Use the discuss commenting system .
Follow us on twitter and Like Our Facebook Page For Notification related to anime . Just Click the like and Follow Button Down Below.
Top 10 2017 Anime which has Finished Airing
Reviewed by
Hritwik Raj
on
Monday, June 26, 2017
Rating: